What is the bottle cutting machine?
Views:0 Author:Site Editor Publish Time: 2021-07-07 Origin:Site
The versatility of plastics has made them a key material for packaging beverages, food and other everyday items, including products produced by the plastic bottle manufacturing industry. Plastics can be molded into a range of shapes and sizes, and can be altered to achieve desired levels of strength and dexterity. In the five years to 2020, downstream industries will need more bottles to meet growing consumer demand. Plastic bottle cutters are also becoming increasingly popular with users.
This passage is going to talk about the followings of the bottle cutting machine:
1)Introduction to a bottle cutting machine
2)Our advantages
3)Features of bottle cutting machine
1) Introduction to a bottle cutting machine
Our Plastic Bottle Neck Cutting Trimming Machine has a bottle holding device, moving device and demoulding device all in one. The machine has good quality, high safety performance, compact structure, simple operation and maintenance, small volume, light weight, low noise, etc. It can replace a small number of accessories according to the size of the diameter of the plastic barrel, and the cut is smooth and carrot-free.
Its advantages are: bottle holding device, moving device and demoulding device are all in one, which can demould the blowing line and blowing bottles, and ensure the synchronous movement of demoulding device and bottle holding device, eliminate the movement error and ensure the cutting quality, and the whole structure is simple and high cutting efficiency.
Our Plastic Bottle Neck Cutting Trimming Machine is mainly used in the plastic products industry, such as PET bottles, PE/PP bottles, motor oil bottles and barrels, mainly for removing excess parts of bottle mouths. Please contact us if you have any needs.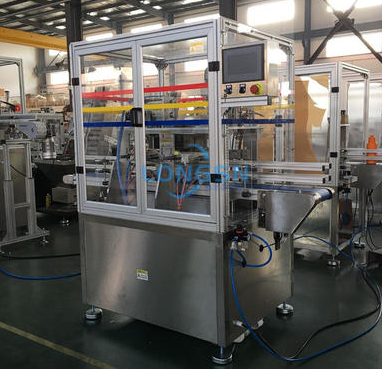 2) Our advantages
The LONGSN factory automatic bottle cutting method is the latest solution for the plastic bottle/container industry. It greatly reduces the cost of labor, material and qualification rate of the factory. Our cutting uses a soft cutting method to protect the container mouth without causing any flaking, which can guarantee a smooth end and save your material.
This bottle neck cutting machine can be used for plastic cans, wine glasses, pharmaceuticals and daily use products. Applicable cutting materials can be PE, PVC, PP, PET and PC, and it can be connected to in-line production. The maximum speed can reach 5000-6000 BPH.
All in all, it will be the ideal choice for your plastic cutting solution.
3) Features of bottle cutting machine
Our machine has PLC human-machine interface control, easy to operate wide range of applications, can be connected with other machines Our machine adopts pincer rotating cutting method. Our bottle cutting machine has high efficiency, good stability, smooth neck and easy to seal.
1. production line features of bottle cutting machine: high output, economical labor, good quality
2. bottle cutting machine has a reasonable design, compact structure and easy operation.
3. adjustable mode of bottle cutting machine: frequency controller.
4. bottle cutting machine features: low noise. Save power 30%.
5. type of extrusion system of bottle cutting machine: the diamond-shaped three-stage progressive screw is used. This contributes to a good plasticizing effect.
6. bottle cutting machine use can lift the frame: adjusting the gap between the die inlet and the die can minimize the residue and residue of the product.
You can contact us or find more information about bottle cutting machines on our product details page.