How plastic bottles are made?
Views:0 Author:Site Editor Publish Time: 2021-07-13 Origin:Site
Operators in the plastic bottle manufacturing industry use a variety of plastic compounds to create a range of bottles depending on the end-use. These bottles are then sold to beverage, food and chemical manufacturers for use as packaging for soft drinks, milk, condiments, and household and automotive chemicals. The industry does not produce reusable plastic bottles or other plastic containers. The plastic bottles we offer are mainly used in the plastic products manufacturing industry, such as PET bottles, PE/PP bottles, motor oil jugs, and drums, mainly for removing excess from bottle tops. Here is the information I found about the production of plastic bottles.
This passage is going to talk about the followings of the bottle cutting machine:
1) How are plastic bottles made?
2) Our advantages
3) About us
1) How are plastic bottles made?
A bottle is usually formed by blow molding, but there are several techniques, including reheat and blow molding, extrusion blow molding, and reciprocating blow molding. The first stage of the typical two-step reheat-and-blow (RBM) bottle manufacturing process is injection molding. Plastic pellets are plasticized in the barrel of the injection molding machine, where the plastic is melted by heat and shearing action of the feed screw. The plastic is then injected into a multi-cavity mold where it assumes the shape of an elongated tube. These tubes, called blanks, often include molded necks and threads to cap the upcoming bottles.PET blanks or preforms are easily transported to bottling facilities because they are more compact than fully molded bottles.
The mold must be cooled relatively quickly so that the newly formed parts are set up properly. There are several direct and indirect cooling methods that can effectively cool the mold and plastic. Water can flow through pipes around the mold, thus cooling the mold and plastic indirectly. Direct methods include using pressurized air or carbon dioxide directly on the mold and plastic.
The final produced plastic bottles need to be cut by bottle cutting machine to have the perfect shape.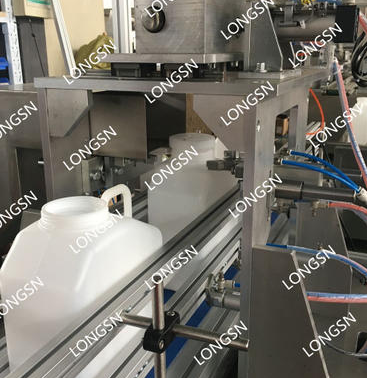 2) Our advantages
Our bottle cutting machine has three parts: bottle holding device, moving device and demoulding device, and they are combined into one. The machine has good quality, high safety performance, compact structure, simple operation and maintenance, small volume, light weight, low noise, etc. It can replace a small amount of accessories according to the size of the diameter of the plastic barrel, and the cut is smooth and carrot-free.
The advantages of bottle cutting machine are: bottle holding device, moving device and demoulding device are all in one, which can demould the blowing line and blowing bottle, and ensure the synchronous movement of demoulding device and bottle holding device, eliminate the movement error and ensure the cutting quality, and the whole structure is simple and high cutting efficiency.
3) About us
LONGSN Machinery Factory's automatic packaging machine replaces the traditional manual packaging, improves production efficiency, reduces labor costs and realizes a complete automated production line for product post-processing. You can choose us with confidence. We will bring you the best profit and achieve a win-win situation. You can contact us or find more information about bottle cutting machines on our product details page.